How to install a vent using a carbide tipped hole saw to cut HardiPlank and wood
July 17, 2018
---
Step by step guide on installing a vent in HardiPlank® or wood
Why use an Exchange-A-Blade carbide tipped hole saw
The carbide tipped hole saws shown here are only intended for cutting wood and fiber cement products. HardiPlank®, or any fiber cement product, is challenging to cut because it's very soft and abrasive. A bimetal hole saw, often used to cut through wood and steel, will not last when used to cut through any fiber cement product. For example, if we use an Exchange-A-Blade Razor Back M42 bimetal hole saw, which will cut 160 holes through 3/16" steel, it would be ruined after one or two cuts into HardiPlank® or fiber cement board. By using a carbide tipped hole saw, even though it gives a slightly rougher finish, you can cut hundreds of holes with one single hole saw. The slightly rougher cut is more than offset by the speed, durability and 2 ½" depth of cut provided by the EAB carbide tipped hole saw.
Selecting the right carbide tipped hole saw to cut your vent hole
To cut a 4 ⅛" hole in HardiPlank® siding so that you can insert your dryer vent, we recommend using the Exchange-A-Blade 4 ⅛" carbide tipped hole saw. This hole saw is deeper than your standard hole saw so it cuts right through the wall—through the fiber cement siding and the ½" plywood substrate below it. Additionally, the Exchange-A-Blade 4 ⅛" carbide tipped hole saw has extremely large gullets to assist with material removal and provide much faster cutting.
Cutting your vent hole

Carbide tipped hole saw and mandrel mounted to drill
To attach the hole saw to your drill you need to thread it onto a mandrel such as the Exchange-A-Blade ⅜" spring loaded mandrel (item #1054532). Because these hole saws have an extra deep cutting capacity you also need the Exchange-A-Blade 4" carbide tipped pilot drill (item #1054422).
When using a hole saw, cut with a slow, steady speed and use a gentle rocking motion to help clear the cut debris. Your finished hole will be fairly smooth on the outside with some minor chipping on the inside, which is hidden from sight inside the wall. If you need a smooth finish on both sides of the cut, once the pilot drill breaks through the far side, simply move the hole saw to the back side and using the pilot hole as your guide, resume cutting from the other side.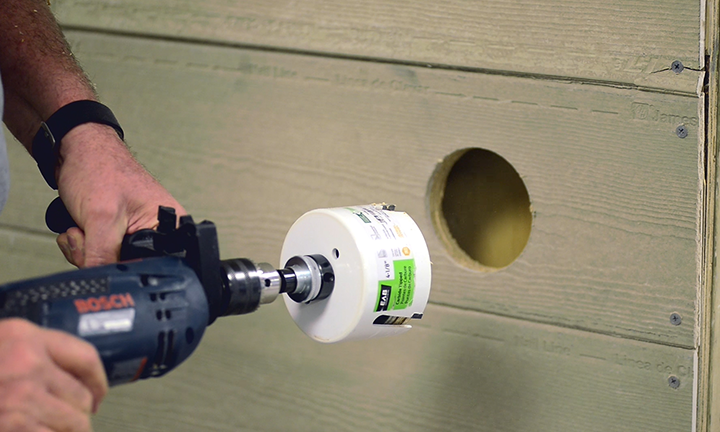 Vent hole ready for vent
Refer to How to cut the perfect hole in wood using a hole saw for more information about hole saw cutting techniques.
Installing your vent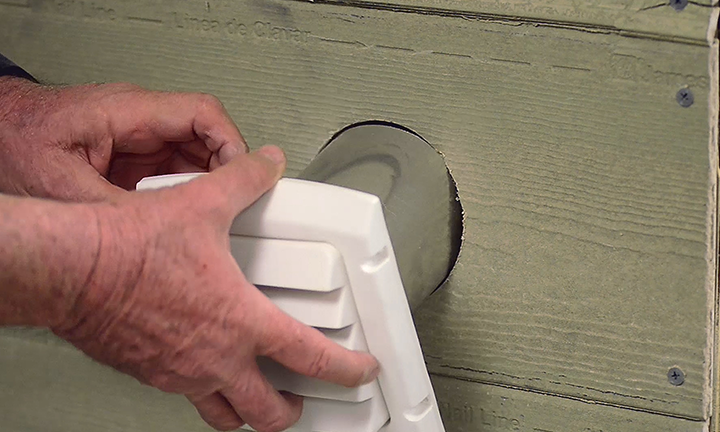 Inserting vent
Once your hole is cut, take your vent, slide it into the hole and tack it in place. Lastly caulk around it.
Notice that any minor chipping is covered by the vent flange.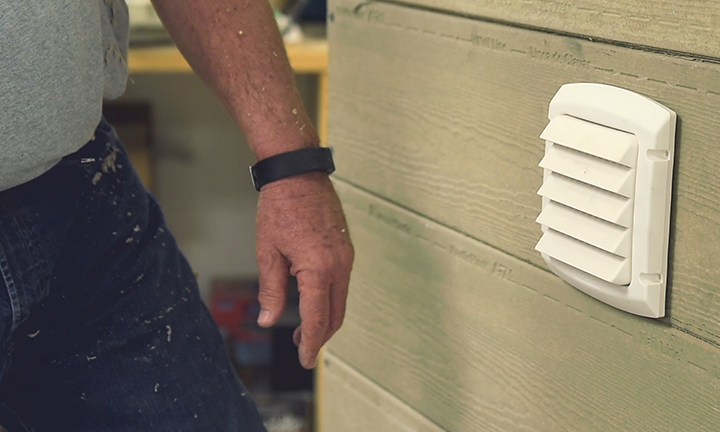 Vent installed ready for tacking and caulking
Cuts more holes than the competition
When tested in EAB's testing and quality control lab, Exchange-A-Blade's carbide tipped hole saws cut 870 holes through a HardiPlank® and plywood wall versus a regular steel tipped hole saw on the market today, which only cut 28 holes through a HardiPlank® and plywood wall.
Exchange-A-Blade carbide tipped hole saws
Exchange-A-Blade carbide tipped hole saws are favoured by plumbers, electricians, and contractors who need to quickly cut larger holes through a variety of wood products. These tough industrial C2 carbide tips are the only hole saws recommended for fiber cement products, and they offer the following benefits:
Heavy duty, 2.7mm thick, high carbon steel body with chunky C2 carbide teeth
Cut 10x faster than regular 4/6 pitch bimetal hole saws
Offer extra deep 2 ½" cutting depth
Available in 24 sizes from 3/4" to 6 1/4"
Easily cut through imbedded nails and screws
Exchange-A-Blade carbide tipped hole saws are market leaders in quality and value. They can be used to cut holes up to 2 ½" deep in wood, HardiPlank®, composites, plastic, plywood, particle board, fiber cement, vinyl tile, wood flooring and are built to meet the extreme-duty needs of the high volume contractor or commercial user.
---